18 Feb
When Iron Maiden performed for the first time in India, on the 17th of March, 2007 at the Palace Grounds in Bangalore, Bruce Dickinson, in a response to the ergo familiar complaint of Indian fans, "We have waited for 17 years for you guys….", replied that it won't be 17 months before they come back.
And they were true to their words. Their Somewhere Back in Time World Tour stopped twice in India, kicking off the tour officially in Mumbai, BKC on the 1st of Feb, 2008 and now in 2009 on the 15th of Feb in Bangalore, Palace Grounds.
As true Maidenheads, my wife Haimanti, I and two other friends, PGK and Avinash turned up at the venue just in time to catch up with the opening acts of Lauren Harris, Brandon Ashley and The Silverbugs and Parikrama.
Moments later Iron Maiden took up the stage and from then onwards, it was bliss as they enthralled us with a comprehensive setlist featuring :
(Setlist details courtesy of Wikipedia)
The next two hours were unforgettable. The crowd screamed at Bruce's invitation of "Scream for me Bangalore…" not once, twice but as many times as their god asked for it. They sang along to all of their songs and at the end of the encore, just stood there, unable to believe that it was over.
For those who couldn't make it, pictures and videos follow :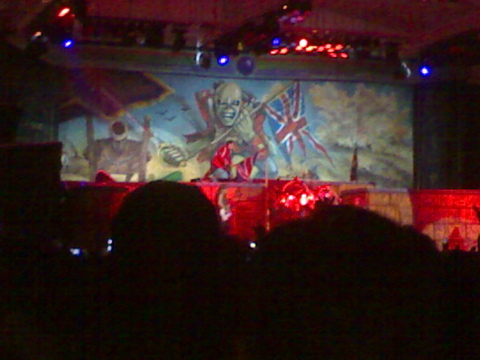 The Trooper…
Fear of the Dark…
Rime of the Ancient Mariner…
I am eagerly waiting for their next visit…